Best Chirstmas Deals & Coupons 2023
Discover the best Christmas shopping deals and offers for Winter Clearance Sales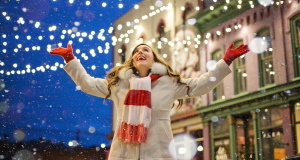 The holiday season is here! The days are shorter, the weather is cooler, and the lights are sparkling to help brighten up the holiday season.
Why bother venturing out into the cold when you can get all the best gifts delivered right to your door? BravoDeal is here to help you and save you as much as possible so you can complete your long list of things to buy.

Do you want to know when the Christmas deals start and when the winter sales start?
They are already here in the United States! Gone are the days when there are just a few special sale dates. You can already take advantage of pre-Christmas sales and winter sales to get amazing deals on all the items you need.
You will definitely find a free shipping deal from most of the stores too, so you save right away! BravoDeal has all the discounts and coupons you need to make it easy during seasonal sales.
.
Best Online Deals for Christmas
Discount on Christmas Decorations
It wouldn't be the holidays without decorations! You can find all the decorations you need at Walmart, and Sam's Club. Lights for your house, a blow-up snowman for your front yard, wreaths, an artificial Christmas tree and so much more! Choose from string lights, icicle lights, or net lights to frame a window, line a gutter, or hang from a tree.

If you're looking for Christmas table ideas, check out Overstock and QVC for great prices on themed dinner sets, runners, tablecloths, and centerpieces. Layer the reds, greens, and whites for a traditional look, or stick to gold and silver for a more polished look. No matter what aesthetic you choose, Overstock has it for you!
Best Christmas Sales for Clothing
At JCPenny, you can always find a great deal on men's and women's accessories and of course baby clothes, toys, and gear from the top brands! You can take care of the whole family with their winter sales on coats as well as on other necessary winter apparel like boots, hats, scarves, and gloves.
We all know we need extra scarves and gloves during the winter! Carter's is a famous brand for kids and babies that has incredible savings during winter sales. Take up to 80% off on your favorite pajamas, onesies, and so much more. Every time you go to Carter's there is a super deal to be found!
Best Christmas Gift Deals
If you are looking for a new huge-screen TV for the Super Bowl, gaming gear, Playstation & Xbox games, electronics, and mobile devices you definitely need to go to Best Buy and Verizon Wireless. With our best Christmas shopping deals, you can save on the latest technology like cameras, tablets, headphones, laptop accessories, speakers and more.

Sign up for AT&T TV where you can watch all your favorite entertainment in one place and have access to thousands of apps.
Here are some of the best Christmas sales happening this year:
Christmas Vacation & Travel Deals
If you want to get away for a few days, book your trip with Hotwire, Expedia, or Skyscanner! If you want to fly across the country or just go on a weekend getaway nearby, you will definitely find a great deal on hotels and flights when you search on all of those sites.
Winter Clearance Sales for Big Savings!
Gifts for sports fanatics and exercise lovers can be found at Nike, Reebok, and Adidas. They always have thousands of styles on sale all throughout the winter months.
Looking for the perfect gift for that gamer in your life? Use these Oculus Christmas discounts to save on a new Meta Quest or Meta Portal device.
If you're looking for the best tech deals, check out Samsung! This holiday season, you can snag amazing discounts on smartphones, energy-saving appliances, TVs, wireless headphones and other great tech gadgets.
Buy, sell or trade used photo and video gear at MPB! You can grab up to $500 on refurbished items today by shopping with a MPB coupon code.
Looking for women's clothing and accessories? Shop thousands of deals at Macy's and Shein and you can't go wrong. Shein has the best holiday shopping deals on the latest fashion trends., Shop for all new arrivals in jeans, shirts, shoes, outerwear and accessories.
Macy's department store carries premium clothing lines like Calvin Klein, Michael Kors, and DKNY. At the Macy's winter clearance sales, you can save on everything you need for your home including furniture, small kitchen appliances like air fryers, outdoor gear, beauty products and more!
Brighten up someone's holidays with a gorgeous FTD floral arrangement or lovely plant. They also have a wonderful selection of delicious gourmet gift baskets.
How about sending a Postmates gift card to your college-aged friends and family? They can order all the food they want and have it delivered to their doorstep. Have prepared meals brought directly to your door for you and yours to savor and enjoy.
Each year, the long weekends of Martin Luther King Day Jr and Presidents' Day provide the perfect opportunity for retailers to offer deals and discounts to consumers on a wide range of items. This is a great time to save on winter apparel and fashions, Christmas items, and big-ticket items like televisions, tires, power tools, and home appliances.
Stay tuned for even more in the 2023 winter sales from the hundreds of brands and retailers that BravoDeal works with by signing up for the BravoDeal newsletter.
Only a couple of more months until the spring shows signs of new life and sunnier days. For now, enjoy the new year without breaking the bank. BravoDeal is here for you. We have the best coupons and deals to help you create the magic of the holidays while respecting your budget.
BravoDeal stats
4,000,000 users
6,000+ shops
150,000+ coupons
98% verified