The Most Popular US Travel Destinations According to Americans
Domestic travel and staycations are on the rise across America, with domestic travel set to skyrocket over the coming years according to recent data. But where do Americans choose to travel when they want to stay stateside?
Using national and state-level travel-related search data from the past year, BravoDeal has uncovered the most popular states, cities and attractions from across the country — bringing you the most popular domestic travel destinations per state, as well as the top staycation preferences in the US.
From the seemingly endless and diverse Californian coastline in the west to the 14 states of the Eastern Seaboard, and from the outermost Alaskan islands to some of the world's biggest and most exciting cities, it's no wonder domestic travel is as popular as ever!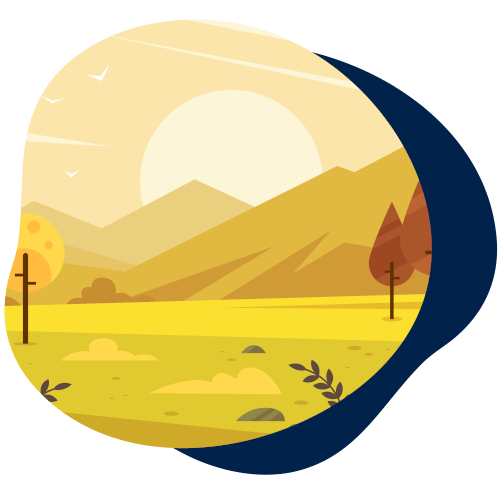 Hawaii Vs. California — Crowning the Official Domestic Vacation State
California and Hawaii battle it out for the top spot when it comes to Americans' travel state of choice, and it's easy to see why.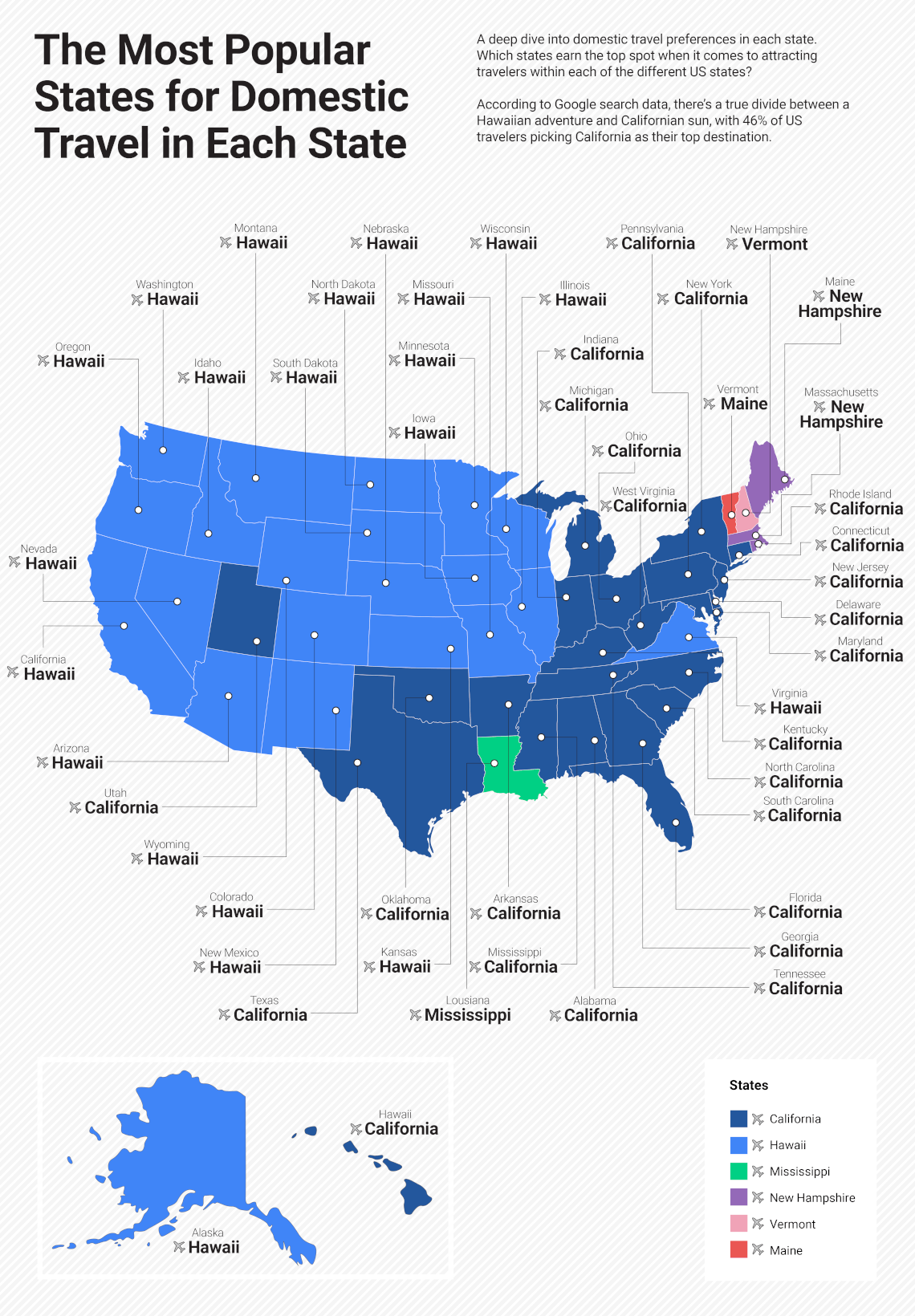 California
With what is often described as a Mediterranean climate, the Golden State really does have something for everyone. For those who love the great outdoors, California serves up great surf, hundreds of miles of hiking trails, and for those who prefer a more relaxed approach, hot springs are available too. The scenery varies so much across the state — coast, mountain, desert, that every time you book a trip it can be a brand-new experience.
Hawaii
One of the most ethnically diverse states, Hawaii, draws people into its rich culture and invites visitors to share its endless summer and laid-back tropical vibe. With breathtaking scenery at every turn, opting for the scenic route rewards travelers with untouched natural wonders and brings with it thriving wildlife. For some, Hawaii is a slice of paradise to relax and unwind in, for others, it's an adventure playground.
Nudging into poll position, California is the destination of choice for 46% of states, with Hawaii in a very close second, with 42% preferring the island life for their domestic travels.
It's clear to see that Americans tend to flock west, with most eastern states choosing California for their vacations and much of central and western America willing to go further away to the South Pacific islands of Hawaii.
In a distant third position, New Hampshire is preferred by just 6% of the other states. It is, however, popular among its neighbors — Maine, Massachusetts, and Rhode Island, who would rather stay closer to home for their domestic travels.
Looking at the domestic travel preferences overall, by national-level search volumes instead of by state preference, the data paints a slightly different picture, with Hawaii taking the top spot, California coming in second and Florida third. Whichever way you look at the data — there's no denying that Americans love sunny destinations!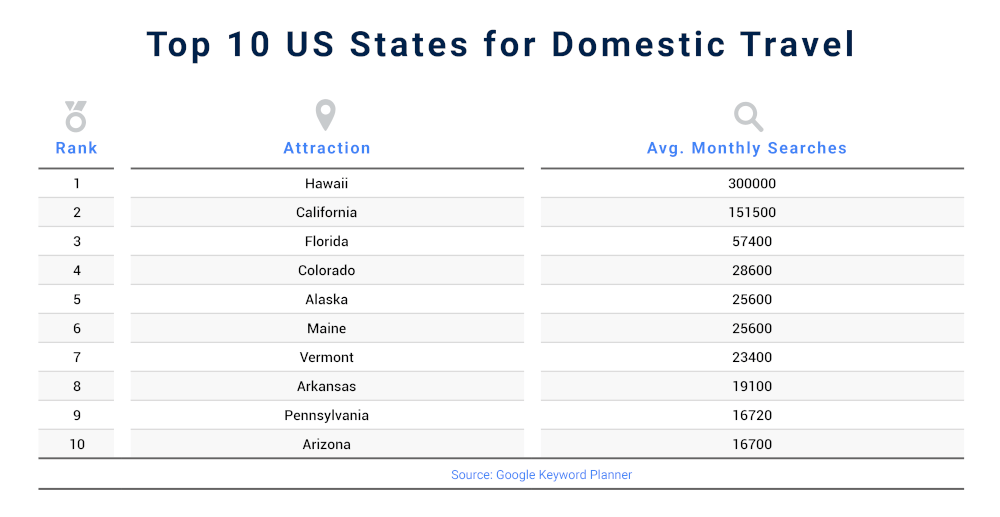 Here are the top states Americans want to travel to when they choose domestic destinations:
1 - Hawaii
Looking at the volume of Google searches overall, Hawaii takes the lead with almost twice the online interest compared to California. A tropical Island with rich natural beauty, go figure.
2 - California
In a strong second place is California. Where the mountains meet the pristine iconic beaches made popular by the television industry.
3 - Florida
In third place is another sunny state, Florida. Mostly a peninsula and with the Atlantic Ocean on one side and the Mexican Gulf on the other, there's an abundance of sandy beaches.
4 - Colorado
Best known for its gorgeous variety of rocky landscapes, Colorado takes fourth place. With canyon rivers, the Rocky Mountains, and arid deserts this mountain state is hard to beat.
5 - Alaska
By far the largest state in America with its vast areas of remote wilderness, Alaska comes in fifth and is a bucket list item for many Americans.
6 - Maine
With its rocky coastline, remote feel, and its proximity to major cities Montreal and New York — Maine is a popular destination and the sixth most popular in our ranking.
7 - Vermont
Rich with forests and snowy peaks Vermont comes in seventh and is a popular destination for outdoor recreational activities.
8 - Arkansas
In eighth place and bordering the great Mississippi River is Arkansas. The rugged Ozark region provides hiking trails, peaks, and limestone caves ready for exploration!
9 - Pennsylvania
Famous for its industrial importance in coal mining, steel production, and railroads — Pennsylvania packs both historical significances as well as highly diverse geography.
10 - Arizona
In tenth place is Arizona, home of the Grand Canyon and some of the most dramatic desert and canyon views in America, and probably the world.
For those long-distance, interstate trips, don't forget to book flights and accommodation well in advance, to take advantage of the best deals in your must-see destination. With so much to see and vast areas to explore, a rental car is a must to get the most out of your vacation.
Top US Cities for Domestic Travel
By looking at overall US search data, we were able to reveal the most popular cities for domestic travel, with some great variety in the mix. So what is it about these big cities that attract visitors from all over the US?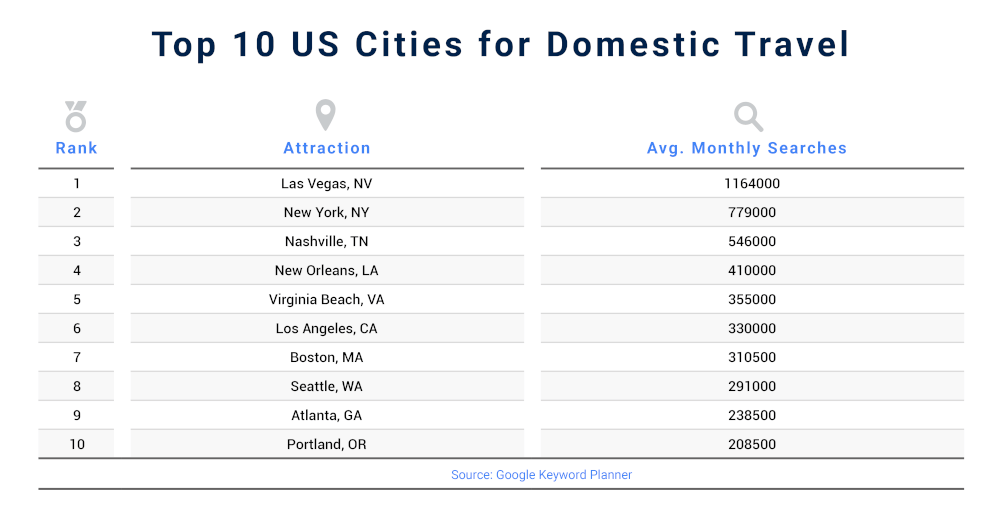 1 - Las Vegas, Nevada
Las Vegas takes first place as the most popular city for domestic travel, with over a million monthly online searches. With its world-famous hotels, restaurants, shows, and casinos it is an exciting nightlife destination as well as the perfect jumping-off point for exploring nearby natural wonders.
2 - New York, New York
So good they named it twice! In second place is New York, a sensory overload with food, sites, shopping, sports, theater, and museums. 'The City That Never Sleeps' allows visitors to squeeze a lot of exploring into even a short stay.
3 - Nashville, Tennessee
The country music of Nashville is always calling and Americans love it. Coming in third with all the live music you could want or need, up-and-coming foodies delight, and trendy shopping options, Nashville is a thriving art and culture scene!
4 - New Orleans, Louisiana
New Orleans is a melting pot of French, African and American heritage and cuisine. Known for its round-the-clock nightlife, it's no wonder Americans love to pay a visit to 'Big Easy'.
5 - Virginia Beach, Virginia
Where the Chesapeake Bay meets the Atlantic Ocean and with a 3-mile long boardwalk to boast, Virginia Beach takes fifth place.
6 - Los Angeles, California
Right on the Pacific Coast and with some of the most popular beaches in the world, iconic LA takes sixth place.
7 - Boston, Massachusetts
Just a short 200 miles from New York and boasting some of the most prestigious universities in the world, Boston takes seventh place.
8 - Seattle, Washington
Surrounded by water, forests and parklands the vibrant city and tech scene make Seattle a popular choice and the eighth top city for domestic travel.
9 - Atlanta, Georgia
In the foothills of the Blue Ridge mountains and with a rich history Atlanta comes in ninth place and is a must-visit destination.
10 - Portland, Oregon
Finally, Portland comes in tenth place in the ranking, with over 200.000 searches every month. A thriving cultural scene with snow-capped mountains as a backdrop — what's not to love.
When it comes to city breaks and where travelers from different states like to go, Americans are more than happy to look to their closest neighbors for inspiration.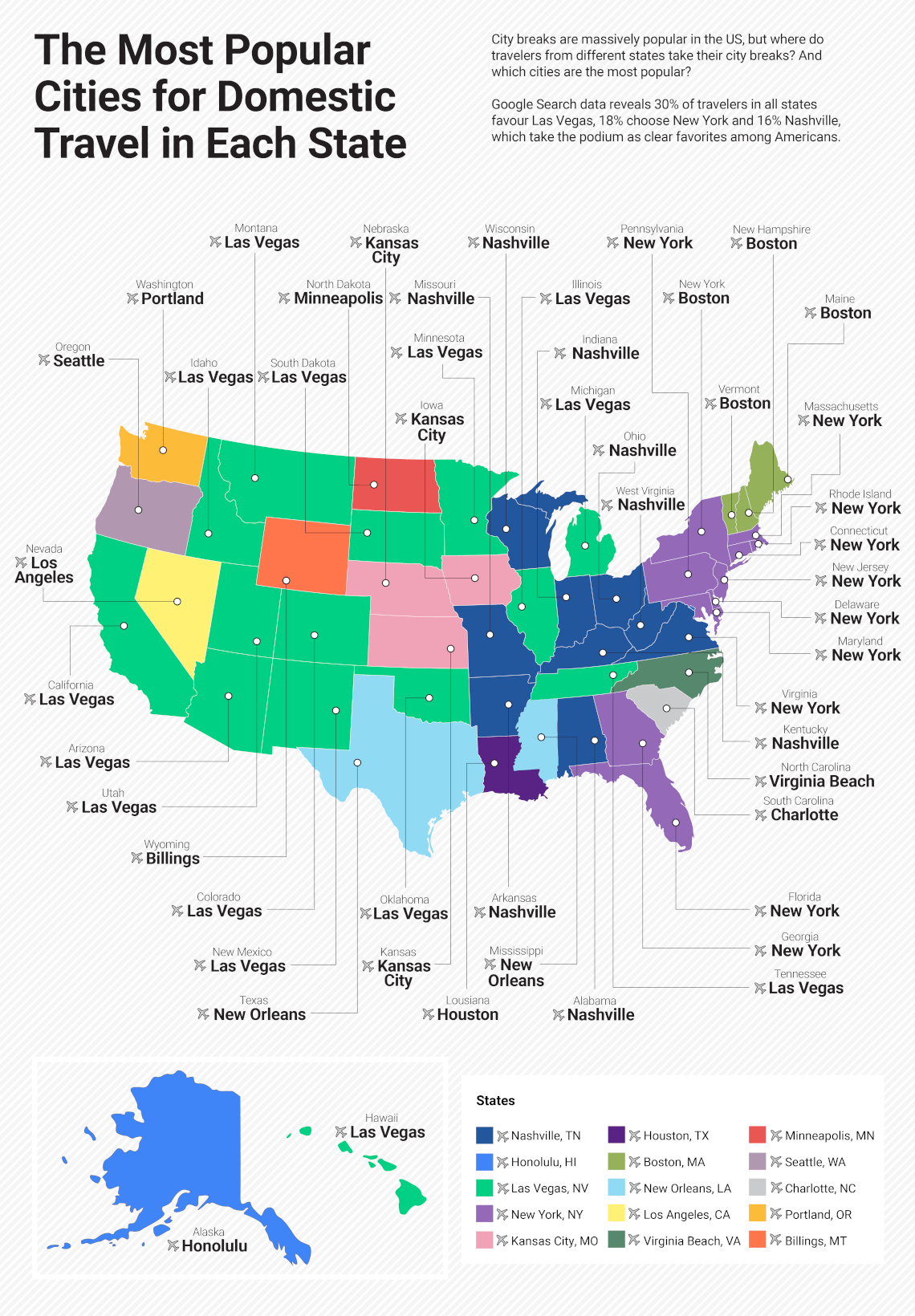 Nevadans choose their neighbor to the west and opt for a taste of Tinseltown glamor in LA, while North Carolinians strut the miles of the beachside boardwalk in Virginia Beach to their north.
Washingtonians hop south to Portland to sample its many microbreweries and those from Oregon repay the compliment by favoring a trip to Seattle, where they can soak up incredible views from the iconic Space Needle.
The New England states keep it in the family and head to Boston for a cobblestone-lined walk through history, whereas bookends, Texas and Mississippi, meet in the middle for a taste of the vibrant melting pot that is New Orleans.
And when Floridians aren't in New York, Atlanta provides the entertainment with theaters, museums and galleries to rival those of the Big Apple and much closer to home.
Take all the hassle out of planning your trip by booking everything — flights, hotels, tours, tickets, and car rentals, in one central place.
Top US Attractions for Domestic Travel
If you want to know the ultimate must-see destinations, BravoDeal gathered and analyzed data on the top attractions in each state, revealing the top 10 attractions for US travel, based on Google search data.
So, which ones have been ticked off the bucket list already and which need to be added?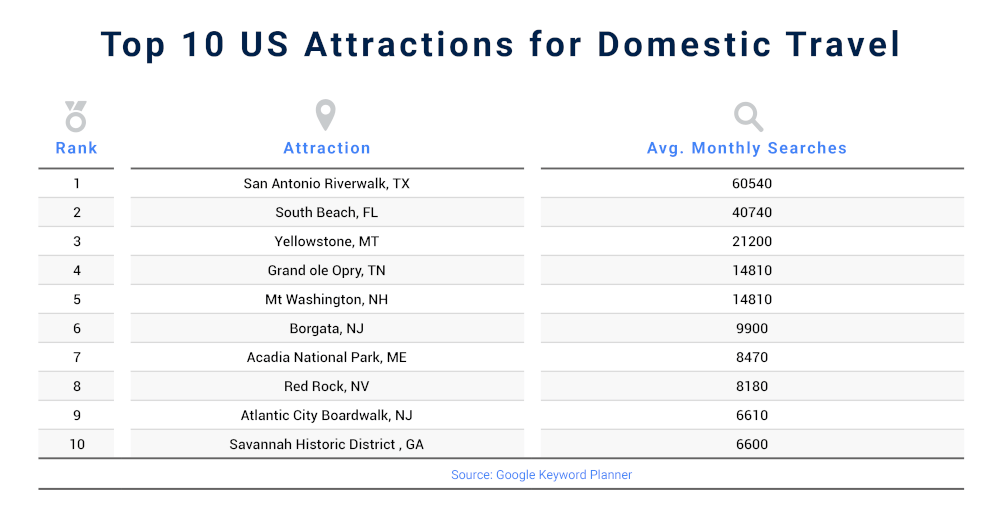 1- San Antonio Riverwalk, Texas
Lined with striking architecture and historic sites, all of which can be admired during a short stroll, the San Antonio Riverwalk takes the coveted first place as the top US attraction.
2 - South Beach, Florida
Once a playground for the rich and famous, Florida's South Beach is now enjoyed by a much wider fan base. Pristine white sand beach, striking blue waters, Art Deco architecture, as well as vibrant nightlife, see South Beach in a strong second place.
3 - Yellowstone, Montana
Featuring dramatic canyons, alpine rivers, rich forests, hot springs and geysers, it's no wonder Yellowstone National Park is a top-three spot. With wild and unpredictable weather, best pack your gear before heading into the unknown.
4 - Grand ole Opry, Tennessee
Founded in 1925 and home of country music — the Grand ole Opry is a dynamic venue. Showcasing a mix of country legends and the current chart-toppers — the Grand ole Opry is a must-see on many Americans' bucket lists.
5 - Mt Washington, New Hampshire
At 6,288.2 ft Mt Washington is the highest peak in the Northeast United States. With dramatic weather and summit views to no less than six states on a clear day, Mt Washington is the fifth most popular attraction.
6 - Borgata, New Jersey
In sixth place is Borgata Casino and Spa, overlooking the marina in Renaissance Pointe, a popular attraction according to Americans. Whether you're after a seat at the blackjack table or a luxurious treatment, Borgata is the place to go.
7 - Acadia National Park, Maine
Crown Jewel of the North Atlantic Coast, Acadia National Park comes in seventh place. With the highest rocky headlands along the Atlantic coastline, an abundance of habitats, and rich cultural heritage, Acadia is a tough destination to beat.
8 - Red Rock, Nevada
Known for its iconic geological features such as red towering peaks of sandstone, the Red Rock Canyon is a popular attraction. Spanning more than 195,000 acres, you can keep coming back for more!
9 - Atlantic City Boardwalk, New Jersey
Construction on Atlantic City's world-famous Boardwalk began back in 1870 and to this day it is still the backbone of the seaside city. Featuring access to hotels, casinos, attractions, and shopping, this historic venue takes a proud ninth place.
10 - Savannah Historic District, Georgia
Packed with museums, monuments, restored 18th-century homes, and gorgeous boutiques, the Savannah Historic District takes tenth place in the ranking of the most popular American attractions.
The call of the wild is strong, with four of the top ten attractions being National or State Parks (3, 5, 7 & 8). Add to this that eight of the ten attractions involve being outdoors and it is clear that Americans enjoy taking advantage of the scenic beauty that the US has to offer. Is there any greater way to experience this than with a good old-fashioned camping trip — we think not!
Getting away from it all is not for everyone though, and there are attractions on the list that reflect a desire to be in the hustle and bustle soaking up the atmosphere and taking the opportunity to people-watch. Whether it's while catching some rays by the coast (2 & 9), a riverside or historical city stroll (1 & 10), or taking your seat at the blackjack table (6) or theater (4), there are a variety of top choices on the list.
Top American staycations & domestic travel destinations
With strict travel regulations in the early pandemic, Americans' really opened their eyes and their wallets to staycations according to reporting on vacation trends during 2020.
A staycation is a holiday closer to home, where the aim isn't to travel far but to feel far away. Not only can you save a ton of money on driving 50 miles down the road versus jumping on a domestic flight, but you're also saving precious holiday time and reducing your carbon footprint by taking to the road instead of the sky.
BravoDeal set out to reveal some local insight on the hottest attractions in every state and our research did not disappoint.
For every state, BravoDeal explored the favorite domestic attraction, as well as the top local attraction in that particular state. Unveiling what home-state attractions the locals prefer is a unique piece of insight, so you can experience the state in the most authentic way, especially if you're coming from further away.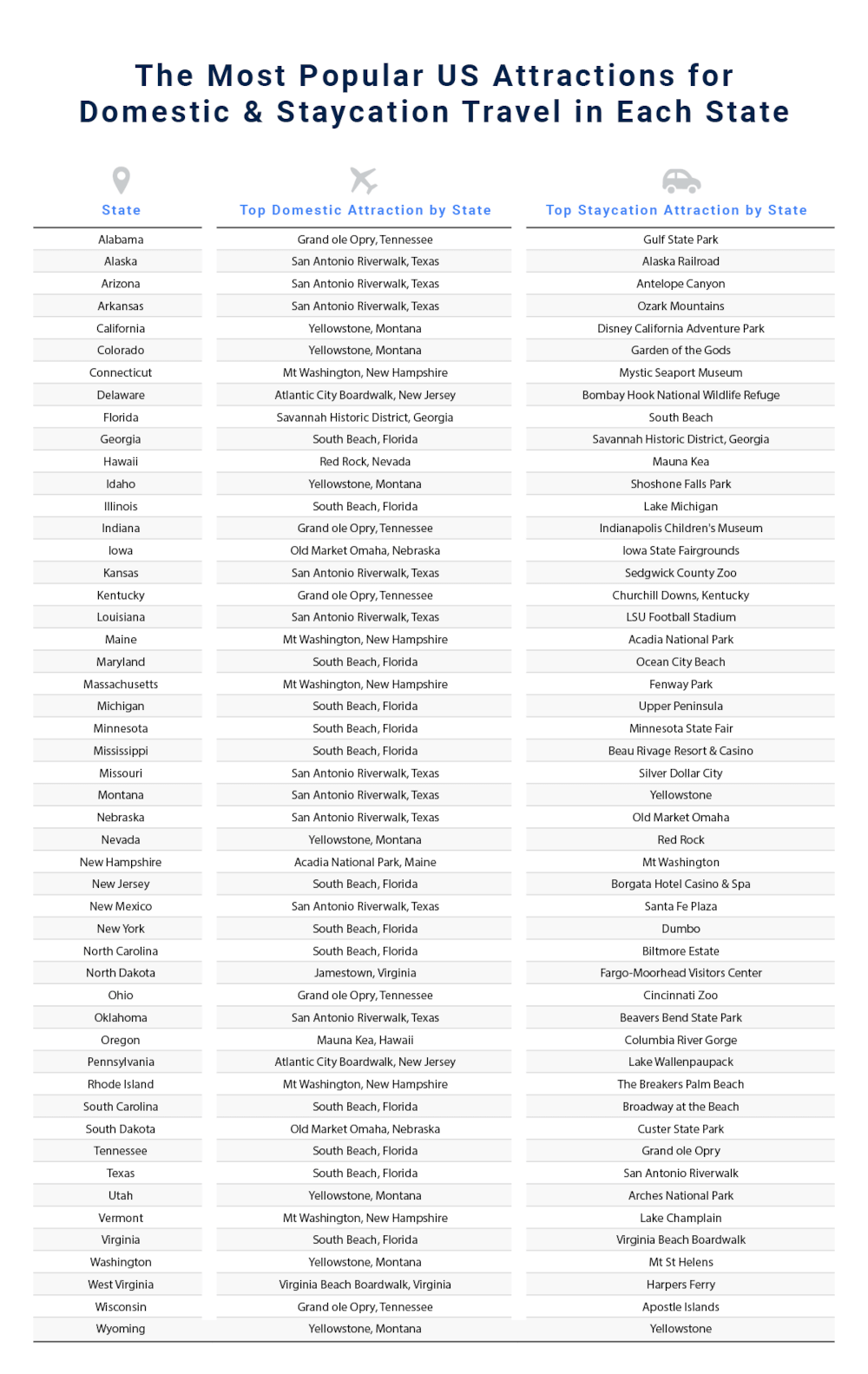 In first place and with 26% of states favoring South Beach Florida as their domestic attraction of choice, it's clear again that the warmer temperatures are often preferable for domestic travel.
In second place, and with 20% of states showing their greatest interest in, is the San Antonio Riverwalk, Texas. In third place is Yellowstone, Montana with 14% of states favoring a trip to one of the great National Parks.