Ways to Celebrate New Year 2020

Some ideas as to how you can make the start of 2020 memorable
New Year celebrations are a good time to say bye to the old and hello to the new! This year, as we cap off 2019, we not only welcome in a new year but also a new decade! This is when we reflect on the past and look forward to the future as we set in motion our hopes and goals for the new year. No matter how you celebrate, whether with friends, family or strangers, ringing in the new year should be memorable. We have some ideas as to how you can make the start of 2020 one to remember! BravoDeal has deals and coupons from hundreds of merchants that will help you save on everything you need to successfully usher in the new year.
New Year's party 2020: The House Party
So you're hosting the New Year's party 2020 and it has to be epic! Here are some ideas that will make the party fun and festive without putting a dent in your wallet. But first thing's first, let your neighbors know that you'll be having some people over and that it'll likely be loud until well after the clock strikes twelve. And if they're cool, you can invite them too.
Nothing says "New Year's party" like 2020-themed noise-makers, balloons, and tiaras. PartyCity has all the New Year's decorations you need including head boppers, balloon bouquets and centerpieces. What's great is that PartyCity sells New Year's-themed party kits from anywhere between 10 to 300 guests for as little as $12 per kit. The kits include pre-packaged black, silver and gold leis, hats, squawkers and horns. You can also set up a photo booth in your home by creating a 2020-themed backdrop with a PartyCity decorating kit including 10 pieces for only $9.99 per kit! And make sure the lighting is perfect so that everyone looks fabulous with this 8" ring light tripod with a cellphone holder from Amazon for only $31.99!
The Times Square Ball Drop
Don't drop the ball on New Year's 2020 celebrations! Instead, watch the Times Square ball drop on a giant, high definition, flat screen TV! Get a Samsung QLED 4K TV with samsung promo code! Unless of course you'd rather be part of the action, make your New Year's destination the Big Apple and join the throngs of people in Times Square as they countdown to midnight. TourRadar has the perfect NYC at NYE package, including hotel, guide and meals! However, if you're looking for a warmer New Year's celebration, why not pick up a New Year's travel deal and head to Vegas, baby! Vegas.com has offers on New Year's activities like tickets to shows for as low as $99. Make Las Vegas your New Year's vacation! And be sure to protect your eyes while looking fly with a pair of Ray-Ban sunglasses!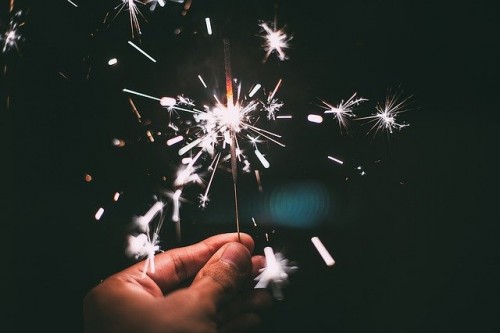 New Year's Outfit
No matter where you're celebrating the turn of the decade, we have deals on every kind of outfit you may need. If you're planning on being the hostess with the most-ess, then check out Macy's for great discounted party looks from brands like Michael Kors and DKNY. Macy's wide range of fashions will help you achieve the right look, whether it be for a house party or a night out on the town. Once you've chosen your outfit, you must be sure to polish off your NYE look with the right beauty products for less thanks to the many Walgreens coupons available. Walgreens has it all from makeup brushes to hair and skin products so you'll be sure to find everything you need to add the final touches at the right price.
If you're celebrating as a family, grab awesome matching outfits from PatPat where you can find discounts on both casual and formal matching outfits for the family. Or if you're looking for something more specific, PatPat also has fun matching outfits for just dad and mom, or dad and baby and mom and baby!

New Year's Resolutions
One of the more famous New Year's quotes is by William Shakespeare and reads: "It is not in the stars to hold our destiny but in ourselves." Thus, the new year is a great opportunity to take a chance on yourself by committing to live the life you have always wanted. If you set realistic goals and have a plan, all you have to do is stick to it and see the results become reality. If you're looking for somewhere to start, check out the book section at Walmart where you will find great deals on popular self-help books like "The Subtle Art of Not Giving a F*ck." by Mark Manson. Or get inspired by books like "Note to Self: Inspiring Words From Inspiring People," by Gayle King, or the bestselling memoir by Michelle Obama entitled "Becoming".
If you're looking to achieve more business-oriented goals, pick up a coupon for courses by motivational speaker and coach Brian Tracy. The Brian Tracy Proven Process for Success will help you achieve your New Year's resolutions whether they be focused in public speaking, time management, or setting smart goals. The Brian Tracy website also offers free blogs and articles about what it takes to be successful. Don't let your 2020 goals become a thing of the past three weeks into the year. Instead, with the right expectations, some preparation and a little help, you can achieve your 2020 goals!

Make 2020 an absolute success from beginning to end and save money while doing it! BravoDeal has you covered for the best deals, discounts and coupons on everything you need not only to bring in the new year but also to have a great year overall. Shop smart on everything from 2020 party decorations and ideas, fashionable New Year's outfits for you and the family, to inspiring books and coaching courses to help you be the best version of yourself. Sign up to the BravoDeal newsletter to stay up to date on the latest deals, discounts and best coupons. In the meantime, we wish you a very fun, happy, and successful new year!